About Us
A strong and enduring history
Established in 1994, Hughes Metal Works started with the partnership of current owner and manager Bryan James, his brother-in-law, Jim Hughes, and father-in-law, Garnett Hughes. The Company's initial history stretches back even further to Debnam-Hughes Architectural Metals, the metal fabricating company that Garnett Hughes and Robert Debnam started and operated for 30 years. Under their leadership, Bryan and Jim learned the metal works business and used that experience to start Hughes Metal Works.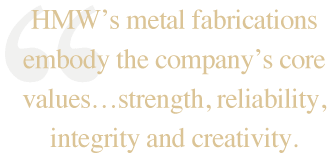 This family owned and operated business draws on the solid foundations of its beginning and history to deliver excellent products and service today. Bryan James manages the Company and has continued to build the business with a focus on maintaining strong, ongoing relationships with customers. The Company emphasizes problem solving, which often involves taking an architect's or builder's vision and creating a fabrication to fit that idea.
Honest, reliable and creative employees
Hughes Metal Works employs approximately 20 people, many of whom have worked for the Company for over ten years. The workforce in the metal shop includes diverse backgrounds with employees from Laos, Mexico, Bosnia and Kosovo Albania. All work together to craft unique metal fabrications that require a range of skills in welding, design and construction. The Company takes the project from the initial vision through creative and precise design, production and final installation into a building.